Hi there readers! I am thrilled to be doing a post for Beth's Girl Mom Series!


My name is Cara and I blog over at
Homespun Kitchen
. I started my blog as a way to "scrapbook" our daily lives. When I began blogging I was home doing daycare, my posts consisted of lots of recipes! Now I work 4 days a week outside the home, so not too many new recipes happening.
My husband Brad and I have been married for 17 years and I am by far the luckiest woman! We couldn't wait to start a family but we decided to wait a year after getting married to start trying. I am SO glad we did that! We were able to buy a house and feel a little more settled. We started trying the summer of 1999 and I was so sad that after a couple months nothing happened. In that amount of time 3 of my closest friends got pregnant. I was so stressed so we decided to put baby making on hold for awhile.
The next summer we decided to start trying again and after 2 months we were pregnant with Rachel. I was so excited and couldn't believe I was actually pregnant! All my life I wanted girls, I don't know what it was (maybe my brother annoyed me enough to not want a boy, ha!) but I only imagined myself with girls. Of course all we wanted was a healthy baby, boy or girl. Through my entire pregnancy I convinced myself I was having a boy, even bought a few boy outfits. So I was THRILLED when they said "girl"!
After having Rachel I really wanted her to have a sister, and along came Emma! We were so happy with 2 girls and neither one of us had that desire or need to try for a boy. We decided we were done. In August of 2005 we bought some land from Brad's parents and decided to build a house. We felt it was perfect timing, as the girls were 2 and 4 and I was so excited to begin planning our home. About 2 weeks after we broke ground we were surprised with a positive pregnancy test! I was terrified and thrilled to be having #3, we hadn't planned it, but I had always wanted three kids.
Having three girls is everything I thought it would be, fun, stressful, catty, exhausting and catty, haha! The girls are now 14, 12 and 9. I feel like everyday is a learning experience, whether it's them teaching me, or me giving advice. I constantly worry that I have screwed them up, but seeing them now, I think we're doing ok!
If I could give other moms with young girls advice it would be this:
1. Love yourself! I make sure that I don't talk negatively about my body, ever! They pick up on that stuff so quickly. I also exercise regularly and eat healthy foods. I love hearing the advice they give to their friends about eating healthy!
2. Take time for your marriage. Right now Brad and I are at a crazy stage with girls activities/school functions and really don't have a lot of time alone. We make sure that we carve out time for each other, whether it's getting up a half hour early to have coffee and chat before the girls get up, or sitting on the porch after they go to bed. I love spending time with him!
Beth, thanks so much for having me!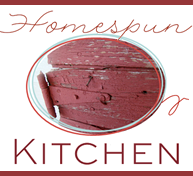 Thank you so much Cara for sharing your girls with us today!
I love Cara's advice to other moms. I know that I really struggled for many years to do both of those things. It's good advice mama's! Remember it, write it down, whatever you need to do. Just make it happen!
Stop by Homespun Kitchen to learn more about Cara and her corner of the blogging world!
Happy Friday eve!