We went into Halloween 2015 with a few questions.
Would we freeze?
Would it be raining?
And most importantly, would Emily be dressed like Minnie Mouse?

I am happy to report the answers:
No, no and of course she would!
This year we escorted around a Cowgirl Princess and Minnierella!
Marissa had decided MONTHS ago that she wanted to dress up as a cowgirl but Emily's Minnerella combination was pretty spur of the moment. She had planned on a different costume (still Minnie inspired) but after a trip to Walmart with me she changed her mind. Thankfully I had the perfect Cinderella dress already on hand so I was easily able to amuse her.
We snapped some photos and headed over to Russ' parents house to meet up with our friends.
This crazy crew is so much fun. Some of the coolest kids I know for sure!
We even had this gorgeous sunset as we started out.
I snapped this photo of the sunset and the kids.
I can't help but laugh seeing Emily's Minnie ears stand out so clearly.
House after house my heart was beaming when I would hear them loudly shout "TRICK OR TREAT" in unison. They had so much fun and were given SO much candy. I'd say our loot was 80% candy bars, the good kind too! This is NOT going to make the candy easy to resist.
Once we were back the kids all dove head first into their candy buckets.... the moms might have snuck a few (dozen) pieces too.
Group photo. So happy I actually remembered. I might just turn into a real blogger after all ;).
Thanks Grandma & Papa for letting us come over and bring our friends along too!
Linking up with Stephanie
& Courtney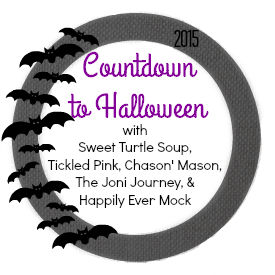 What was the most memorable part of your Halloween?!